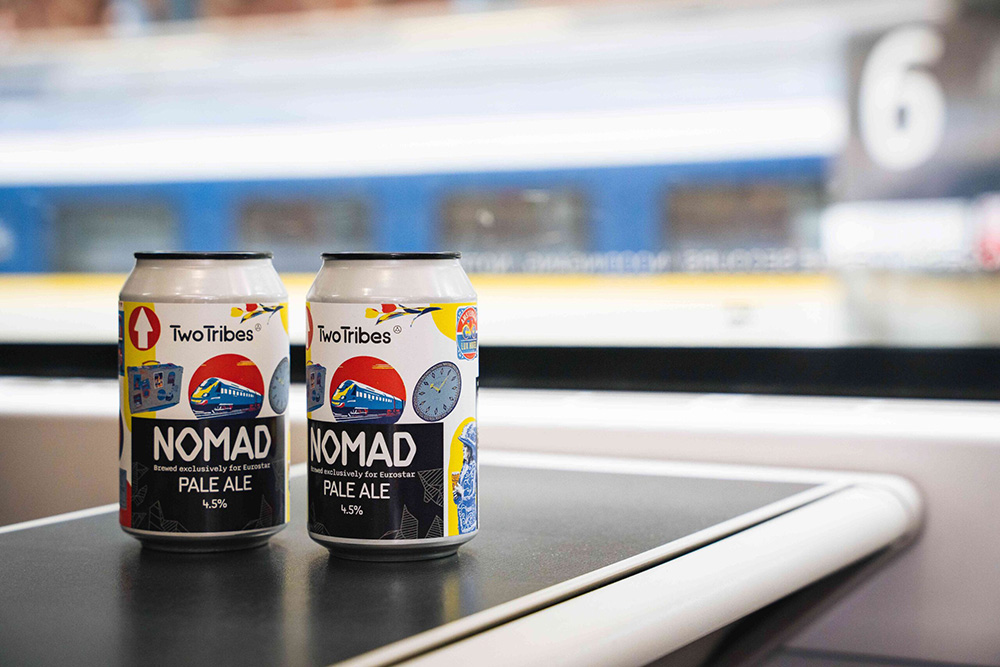 Two Tribes Brewery Partners with Eurostar to Launch Exclusive NOMAD Pale Ale
Two Tribes Brewery, a prominent member of the LBA have partnered with the renowned high-speed rail service, Eurostar. Together, they have created NOMAD, an exclusive pale ale that will be exclusively available to Eurostar customers starting from 15th June 2023.
Crafted by the innovative brewers at Two Tribes, NOMAD is a refreshing and award-winning beer designed to enhance the Eurostar journey through Europe. Brewed with the finest British and European ingredients, including sustainable brewing methods, this bright and easy-going pale ale captures the essence of sunny European summers.
Eurostar invites customers to embark on a flavorful adventure across Europe with NOMAD, allowing their taste buds to explore the diverse flavors of Eurostar's exciting city destinations. This 4.5% ABV pale ale showcases a smooth caramel and toffee backbone from UK, Belgian, and German malts, complemented by refreshing hoppy hints of citrus fruits like grapefruit and orange peel.
The name NOMAD pays homage to the adventurous spirit of travelers who seek new experiences in Eurostar's captivating city destinations such as London, Paris, Lille, Brussels, Rotterdam, and Amsterdam. The eye-catching can, designed by Two Tribes, showcases iconic landmarks from each of these Eurostar destinations, including London St Pancras' clock tower, the Atomium in Brussels, tulips and bicycles in Amsterdam, Rodin's Thinker statue in Paris, and the iconic Eurostar train.
Justin Deighton, Founder of Two Tribes, shared his enthusiasm for the partnership, saying,
"We've embarked on an incredible journey with Eurostar over the past half-year, and we are thrilled to further strengthen our partnership by brewing an exclusive pale ale using the finest British and European ingredients. Two Tribes and Eurostar share the belief that travel holds the key to creative discovery and good times. It is this shared ethos that has fueled our collaboration, resulting in a truly exceptional beer crafted exclusively for Eurostar's discerning on-board customers."
NOMAD will be available exclusively to Eurostar customers in Business Premier, Standard Premier, Café Metropole, as well as London's Business Lounge.