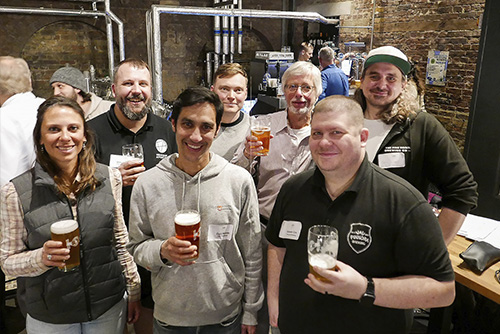 LBA Welcomes New Board Members
Following the AGM held on 23rd March at Sambrook's Brewery, the London Brewers' Alliance are pleased to announce a new-look Committee.
Despite it's relatively short 12-year history, the London Brewers' Alliance have gone from strength to strength in recent years. Having originally been formed as a loose collective of London's brewers back in 2010, mainly for social purposes, the LBA now boasts over 100 member breweries and as such has had to formalise much of its operations in recent times.
Due to the continued growth of our membership, eligible members present at the AGM  voted in favour of a proposal to increase the LBA Committee size from 6 to 8 members and also agreed to increase the co-opted positions from 2 - 4, thus permitting the Board to comprise of a total of 12 full and co-opted committee members. We were also delighted to welcome 3 new board members to the committee - Maricy from Southwark Brewing, Greg from Five Points and Chris from Friendship Adventure.
The meeting also saw current Chairman and founding member, John Keeling, step down from the role after 3 years, and the board were delighted that he will instead take on an ambassadorial role as the organisation's first President, continuing his much valued support in the coming years.
Following a committee meeting later in April, a new Chair and Vice Chair will be voted in and members of the new-look board will be keen to continue the great work that has been done in promoting London's brewers over the past decade and look to extend that support even further into the future.
LBA's Board in full:
Gawain Cox (Pinnora Brewing) - Vice Chair
Todd Matteson (Mondo Brewing)
Zack Ahmed (The Goodness)
Rich White (Werewolf Beer)
Maricy Rizzato (Southwark Brewing)
Greg Hobbs (Five Points Brewing)
Chris Williams (Friendship Adventure)
Co-opted committee members:
Alex Bull (By the Horns - Associate Member)
Jon Stringer (Charles Faram - Trade Member)
Honorary Roles:
John Keeling - President
John Cryne - Secretary