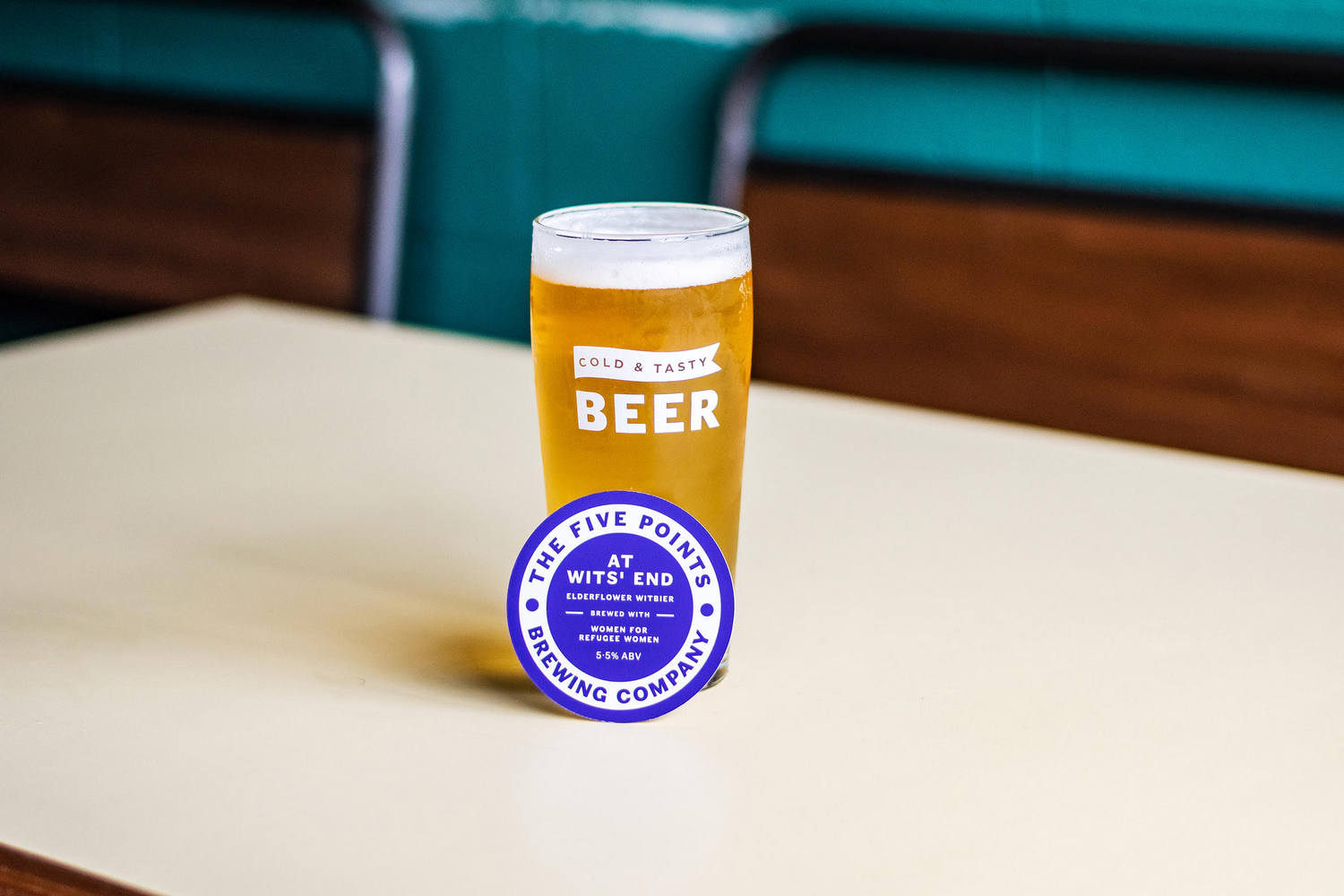 Five Points Releases Charity Beer to Support Women Fleeing Persecution
The Five Points Brewing Co. are today set to release a special charity beer, called At Wits' End, brewed in collaboration with Women for Refugee Women on International Women's Day.
Brewed to raise funds for Women for Refugee Women, a London-based charity that supports women who have fled persecution and seek asylum in the UK. The charity supports a network of over 300 refugee and asylum-seeking women to rebuild their lives in the UK, developing their confidence and skills. A proportion of funds raised by this special beer will support the charity in its work.
At Wits' End is a pale sunshine yellow beer with an ABV of 5.5%. The team brewed the beer with Citra hops, coriander, lemon and orange peel, and elderflower was added-post fermentation. California Ale Yeast was used to create a fruiter iteration of a typical witbier. Floral aromas, cantaloupe and white grapes lead on the nose, before gentle sweetness on the palate.
Rhona McKeran, the Marketing Manager of Five Points, explained:
"With this beer, we want to shine a light on and support great women doing incredibly important work. The beer's name – At Wits' End – represents the fear and desperation asylum-seeking women must endure when fleeing their homes, while the colour and the profile of the beer signifies hope for a positive future."
Carenza Arnold, the Communications Manager of Women for Refugee Women, expressed their delight to collaborate with Five Points Brewery on their special edition beer. She said:
"We're delighted to collaborate with Five Points Brewery on their special edition beer, At Wits' End, to mark International Women's Day 2023. We support women who are seeking safety in the UK from persecution, war, rape, gender-based violence and other torture, to rebuild their lives and advocate for change. At a time where there is increasing hostility towards people seeking safety, we're extremely grateful for this collaboration which will shine a light on our work and what it means to be a refugee woman."
At Wits' End will be available to purchase through The Five Points Brewing Co. and through selected outlets from Monday 24th April. £10 from every keg sold will be donated to Women for Refugee Women. The first pints of At Wits' End will be poured to the public on Thursday 20th April at The Five Points Taproom, E8 4RG.