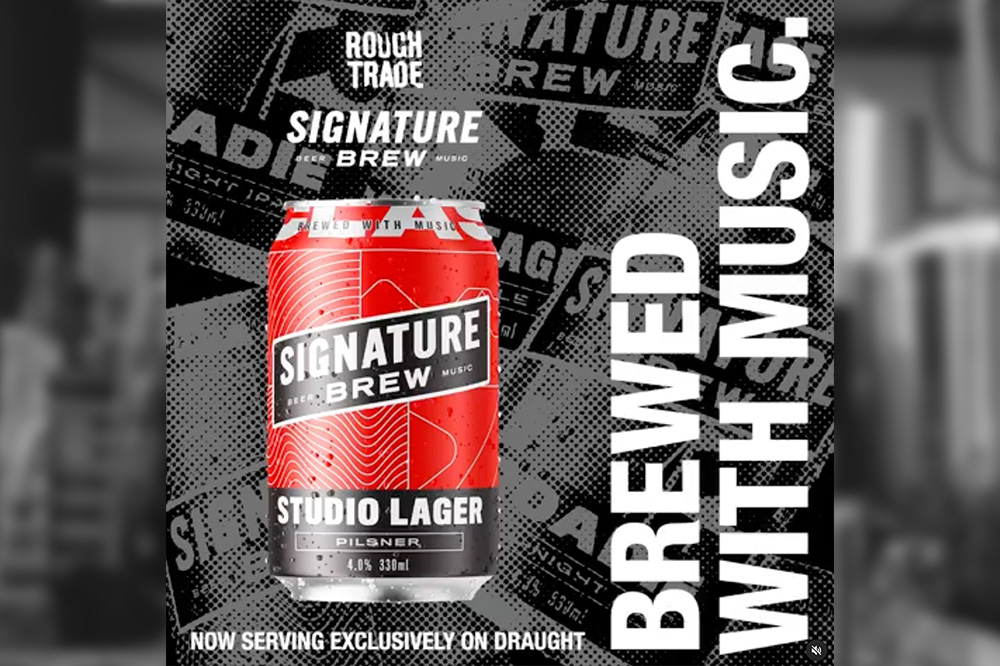 Signature Brew teams Up with Rough Trade
Signature Brew, the London-based independent brewery, is teaming up with Rough Trade, the record store chain, to offer their unique range of beers to customers. From March 21st, Signature Brew will be exclusively serving their beers on draught at Rough Trade's stores in East London, Bristol, and Nottingham. A core range of beers will be available, including the award-winning flagship collection, Studio Lager, Roadie All-Night IPA, and Backstage IPA. Rough Trade will also stock a selection of canned specials, including sours, porters, gluten-free and alcohol-free craft beers.
Signature Brew takes pride in its unique mission to unite people through the power of fresh beer, great music, and unforgettable experiences. Since its founding in 2011, Signature Brew has collaborated with popular artists such as Enter Shikari, Hot Chip, The Darkness, Sports Team, IDLES, Alt-J, Frank Turner, and Hospital Records.
The partnership with Rough Trade is particularly significant for Signature Brew. Sam McGregor, Founder of Signature Brew, explains:
"Rough Trade has always been an inspiration for Signature Brew, from their DIY roots and community-led approach to music, through to putting on incredible gigs in unusual spaces, and providing unforgettable experiences for fans and bands alike. 

"The Signature Brew ethos could not be more aligned with Rough Trade's, so it is an honour for our beers to be pouring in all their incredible locations. 

"It's a perfect partnership and we're only just getting started – so expect incredible things!" 
The partnership comes just before Record Store Day, an event celebrated by independent stores and labels worldwide. Thousands of vinyl enthusiasts expected to visit Rough Trade stores on Record Store Day will have access to limited edition and exclusive records, live music shows, and refreshing beverages.
Customers of Rough Trade can expect more exciting ventures from the partnership in the coming months, including special events, exclusive products, and bespoke beers. Signature Brew's commitment to music culture and an inclusive and progressive creative community backed by a can-do attitude and a passion for doing things differently make them an ideal partner to enhance the record store experience.