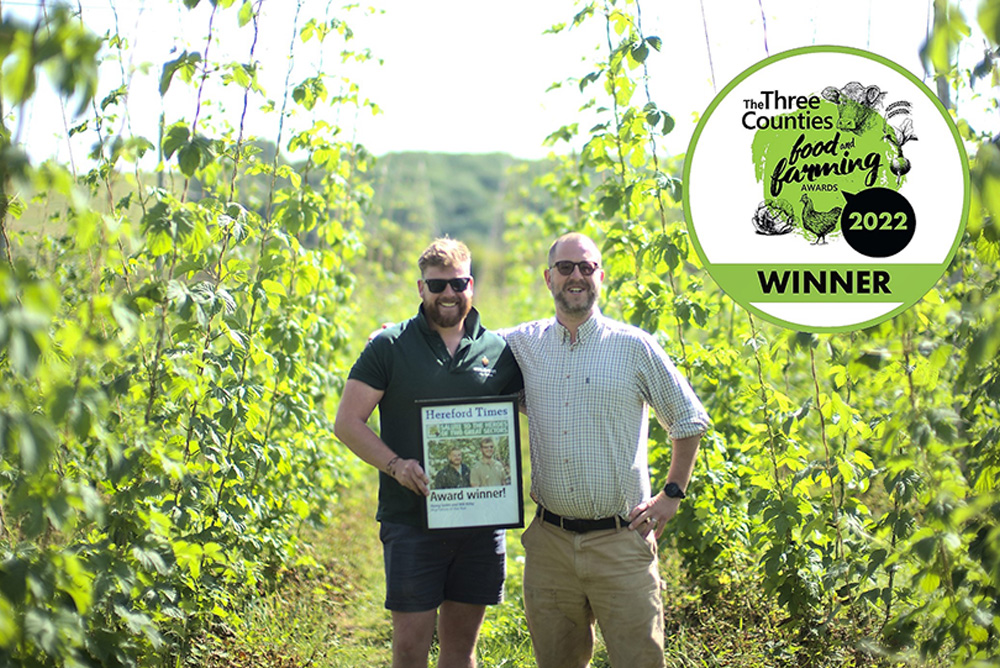 Brook House Hops win Hop Farmer of the Year
Will Kirby and Henry Smith of Brook House Hops in Herefordshire have won Hop Farmer of the Year at the Three Counties Food & Farming Awards.

The awards, in association with the Hereford Times, recognise and celebrate inspiring farming and food businesses making a real difference within the region and across the wider industry. In partnership with the Royal Three Counties Show, this year's event recognised the great and good of the food and farming industries in a dozen award categories.

The Hop Farmer of the Year needed to demonstrate a clear vision for the future backed by a comprehensive management, marketing and supply chain strategy as well as active participation in recognised environmental protection schemes.

Brook House Hops have invested in the latest hop picking, processing and storage technology over the last 5 years and are rapidly building a reputation with brewers for the pioneering work they're doing locally and nationally to lead the Great British Hop revival.

"To be able to reinvent this historic industry and grow world-class hops in a sustainable and innovative way for a new generation of farmers and the next generation of craft brewers is what we're all about" says Farm Manager, Henry Smith.

Their unique farm-to-brewery approach, in contrast to the traditional hop merchant model, allows Brook House Hops to connect directly with brewers and build close working relationships.

Will Kirby, owner of Brook House Hops also commented on the win;
"Having already won awards for our hops, it is fantastic to get recognition for other aspects of our business too. The whole team is chuffed to bits and myself and Henry would like to thank them for their relentless hard work and our customers and supply partners for supporting us, particularly over the last couple of years which have been tough for everyone in the farming and brewing industries."

"Hops are part of the essence of Herefordshire and we're overwhelmed with the positive feedback that we're getting from brewers around the world. We want to keep it that way for many more years to come!"